Board-certified doctors of each field of Aesthetic and Plastic Surgery and approved after strict examination based on years of experience, accomplishments and basis of or will be in charge of treatment and we are giving our utmost care so that the patients can always rely on us.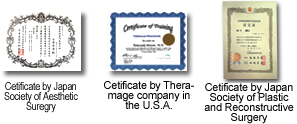 2015.09.04

Dr. Ishihara's medical thesis, titled "The correction technique using skin graft for complications after lower eyelid blepharoplasty" was published in the Journal of the Japan Society of Aesthetic surgery, Volume 52, No. 1 & 2, September, 2016.

2015.06.06

103th Japan Society of Aesthetic Surgery (Tokyo)
Dr. Ishihara has made speech on the subject of "Silicone implant mammoplasty for Funnel chest"

2015.02.21

Medical corporation Kibitaki-kai, aka Town plastic surgery clinics have served in Tohoku district and
reached the 15th anniversary.

2013.09.27

Aomori Town Plastic Surgery Clinic (in Aomori pref.) opens.

2013.09.10

Dr. Ishihara was awarded by the Korean Newspaper, Hankook Ilbo, the prestigeous HANKOOK ILBO 2013 The Best World Awards and was crowned "AN HONORABLE GLOBAL CITIZEN".

2013.08.23

Dr.Ishihara was interviewed by Korean public journal "Dynamic Korea".

2013.07.01

Sendai Town Plastic Surgery Clinic has moved to the 16th floor at AER building,
the most well-known and prestigious commercial building at Tohoku area.


Selecting a clinic for aesthetic surgery is difficult.
Aesthetic surgery clinics, which appear regularly on magazines and hit on the top of search engines; it would be really hard for patients to distinguish if the doctors are really reliable and have all the techniques and the skills.
Even if the contents of the website are complete and look good at a glance, it would be hard to know the skills of the doctor treating you.
At Town Plastic Surgery Clinic Group, we restrict doctors working with us to whom they are only officially certified by Japan Societies of Aesthetic and Plastic Surgery.
Certified doctors mean that one must have a certain years of experience in aesthetic surgery (approximately over 7 years) and accomplishments, and is strictly certified on the basis, and after acquiring a doctor's degree of certification, one must continue to do pathological accomplishments, research and academic society speeches in order not to get their certificate revoked.
Especially, Board certified doctors by Japan Society of Aesthetic Surgery and Japan Society of Plastic and Reconstructive Surgery who treat aesthetic surgery and plastic and reconstructive surgery are one of the most trusted certification, and like our clinic, where doctors who are both certified by both boards are rare nationwide.
Doctors certified in aesthetic surgery are not a certificate which would be granted to a clinical institution, but rather to the doctor himself. There are some systems where the clinic itself is certified, but that does not mean that the doctors who work there are all certified doctors.
If you see a "specialist" on an advertisement for an aesthetic surgery clinic, please ascertain that that is officially certified by an authority of each academics of aesthetic surgery. We advise you to call them and ask what kind of doctors has what kind of certifications by phone or mail. At our clinic, all of our doctors are real specialists in aesthetic and plastic surgery and will deal with aesthetic and plastic treatment of patients.